Haymarket Theatre (Leicester)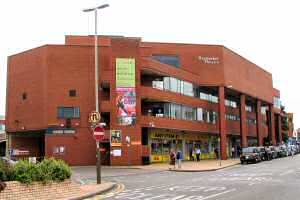 The Haymarket Theatre was opened in Leicester in the 1960s.
It has an interesting situation, on the first floor of the Haymarket Centre, the older of the city's two indoor shopping centres.
The Haymarket Theatre acquired a reputation over the years for originating touring shows, especially musicals, such as "Me and My Girl".
Today, however, a new performing arts centre is being built in the Cultural Quarter of the City Centre, designed by Rafael Vinoly.