Grand Hotel (Leicester)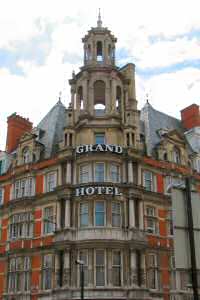 The Grand Hotel in Leicester is situated in the City Centre, near the corner of Granby Street and Belvoir Street.
Although known to generations of Leicester people as the Grand Hotel, it has been subject to company takeovers, and is now officially the Ramada Jarvis.
The Grand Hotel was built in the late 19th century, and the delightful extension on the corner, including the "wedding cake" top, was added by Amos Hall, who also designed Silver Arcade, during the Edwardian period.
The Grand has always been regarded as one of Leicester's most prestigious hotels, and is used as a meeting place by many prominent local organisations, including the Leicester branch of the Magic Circle.
The Kings Hall on the first floor was at one time a cinema.
Where is Grand Hotel?
View a map showing the location of Grand Hotel.
Press the 'Back' button on your web browser to return here.