Conversation Piece Statue (Leicester)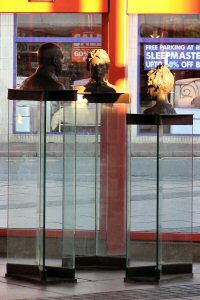 Conversation Piece is an interesting art installation in Leicester.
It was created by Kevin Atherton in 1990, and consists of three heads (and faces, of course), on top of three glass plinths, so that the heads are at the correct level, and appear to be carrying on a conversation.
There were originally more, but the others were vandalised.
The heads were created from moulds, made from the actual heads of volunteers.
Conversation Piece was originally sited in Gallowtree Gate in the City Centre, but was a frequent target for vandals and moved to St. Margarets Bus Station in 1992.
The refurbishment of the Bus Station means that it is presently out of sight, but hopefully it will find a new home soon.