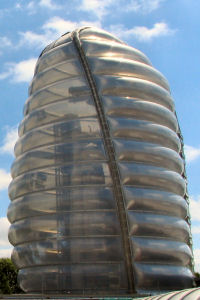 The National Space Centre in Leicester has welcomed its two millionth visitor.
This iconic building was opened in 2001. As it is literally just down the street from where we live, we watched it being built.
It was one of this country`s major Millennium projects, and of course opened in the first year of the new Millennium, as opposed to lots of others which opened in the last year of the old one!
Lloyd Brookes (34) from Lincoln had the honour of being visitor number two million. He came with his children Alistair (6) and Rosa (4). It was heir first visit to the centre, and they had a great time.
Posted by colin on Thursday 23rd September, 2010 at 8:24am