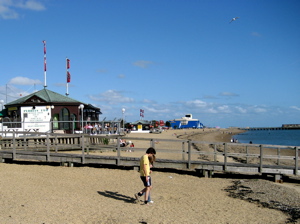 I have a new talk available, which hopefully will be of interest to groups who bring in speakers for their meetings.
Although I now live in Leicester, where I am well known as a Blue Badge Guide, I have spent much of my life by the sea.
I grew up in Southend, and later managed cinemas in this lovely town, whose air was described by Sir John Betjeman as being "like wine".
The talk "Living By the Sea" speaks about what it is like to have sea air as a normal part of life.
Included is my time living and working in Ramsgate, and also in the Portsmouth area.
I hope this will become a popular addition to the many talks I have in my repertoire, and look forward to sharing my seaside experiences with groups.
Posted by colin on Saturday 9th August, 2008 at 9:44pm