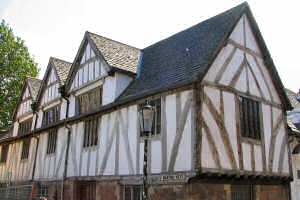 In Britain, we are embarking on a quite long period of national holidays.
Today is the 85th birthday of Her Majesty the Queen, and this year it falls on Maundy Thursday.
Tomorrow is Good Friday, perhaps the msot significant day in the Christian year, and always a Bank Holiday. In Leicester it is always marked by the "Christ in the Centre" re-enactment.
Saturday is St. George`s Day, St. George being England`s national saint.
Sunday is Easter, when Christians celebrate the Resurrection.
Monday is always a Bank Holiday.
This year, on Friday there is an event which has captured the imagination of people across the world, as Prince William marries Kate Middleton.
Sunday is May Day.
Monday is a Bank Holiday.
Welcome to people from abroad who are visiting and will be seeing some of our beautiful country.
Posted by colin on Thursday 21st April, 2011 at 8:26pm