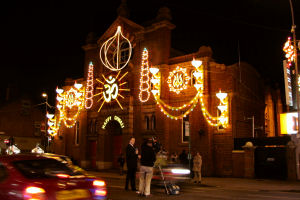 Sunday 23rd October saw the switch-on of Leicester's renowned annual Diwali lights. The ceremony was attended by over 30,000 people.
The illuminations feature 6,000 lights along Belgrave Gate and Melton Road in Leicester, and are said to be the finest display outside the Indian sub-continent.
Diwali is a festival of light celebrated in the Hindu and Sikh communities, both of which are well represented among Leicester's population.
During the festival, houses display a small lamp known as a diwa, and Lakshmi, the goddess of wealth and good fortune, is invited into the house.
The Belgrave Gate and Melton Road area is widely known as the Golden Mile, and is a tourist attraction in its own right, not only for the illuminations, but also for the jewellery shops, the beautiful sari shops, the sweet shops and of course the Indian restaurants, many of which have an international reputation.
In a wonderful display of inter-cultural co-operation, the Diwali lights become, a few weeks later, Christmas lights.
Posted by colin on Monday 24th October, 2005 at 8:53am