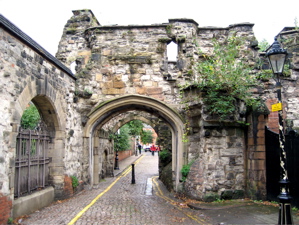 I was privileged recently to deliver a talk to members of the Royce Institute in Leicester, the second time that I have given a talk there.
The Royce Institute was founded by Mary Royce, the first woman in Leicester to qualify as a doctor. Its present premises are close to St. Margarets Church.
My subject this time was "Leicester`s Place in English History", in which I seek to show the city`s involvement in all the important periods of our nation`s story.
Leicester is one of the oldest towns in the country after Colchester, having been an important Roman town on the Fosse Way.
The story continues through the Danish occupation, when Leicester was one of the Five Boroughs; the Norman period and Simon de Montfort`s brief spell as effectively the king; Richard III`s death in battle near Market Bosworth and subsequent burial at Leicester; Cardinal Wolsey`s death and burial at Leicester Abbey; the Siege of Leicester during the Civil War; and Thomas Cook`s heralding of the age of modern tourism with his first ever excursion, from Leicester to Loughborough.
A splendid look at the sweep of the city`s and country`s history, the talk is available for other groups.
Get in touch if you would like me to deliver it to your own club or society.
Posted by colin on Wednesday 18th November, 2009 at 3:54pm