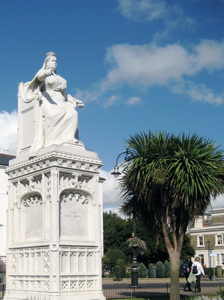 I spent the weekend in Southend recently, and led a couple of Guided Walks while I was there.
Southend is my home town, and my mother still lives in Eastwood (Essex), a suburb of this excellent seaside town, so I stay with her.
While there, I was treated to fish and chips at King`s in Rayleigh, and I went to have a look, my first for some years, at Great Wakering.
The first of the two Guided Walks was on the Saturday afternoon, and was the delightful stroll entitled "Rochford and Hawkwell". On this walk we start in Rochford town centre, and then walk out to Hawkwell by way of the lovely but little-known Ironwell Lane.
On the Sunday afternoon it was "Old Southend". This one starts at the Royal Hotel at the bottom of the High Street, and looks at the early development of what changed from a tiny fishing village to a fashionable resort.
If you live in the Southend area and missed these walks, then you missed a couple of treats. Next year I`m planning to take people on "Rayleigh" and "Southend High Street".
Posted by colin on Tuesday 7th October, 2008 at 8:54am