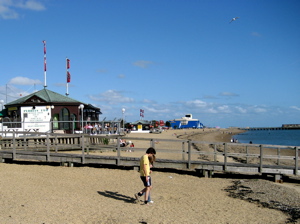 "Don`t Go there" is an amusing little book that you might want to have in your collection.
Compiled by Colin Plinth, it puts together, as the cover says, "1001 rude things people have said about places in Britain and Ireland".
Towns are listed alphabetically, so are easy to find, and there are comments from diverse sources, such as "The Sun", Shakespeare, David Ginola, Jackie Gleeson, Noel Coward and Jeremy Clarkson.
Of course, it`s all fun and should not be taken too seriously.
I thought I would have a look at comments about some of the places that I know well.
About Southend, Diana McCar said in "The Guardian" that "if you can brave the whole day, then watch with awe as Southend transforms into the Monaco grand prix by night, as boy racers zoom up and down the seafront in their Ford Fiestas, mowing down hapless tourists".
About Leicester, another writer in "the Guardian" said that "the very reason Joe Orton left Leicester, aside from some rather restricted cottaging opportunities, was its stubbornly starchy culture. Necrophilia wouldn`t have gone down well on the city`s am-dram scene in the 1960s".
And about Portsmouth, Boris Johnson wrote in "GQ", "one of the most depressed towns in southern England, a place that is arguably too full of drugs, obesity, underachievement and Labour MPs".
Actually, these are three very fine places, as are most of the other towns in the book, but the collection makes a hilarious read.
Posted by colin on Friday 22nd May, 2009 at 7:47am