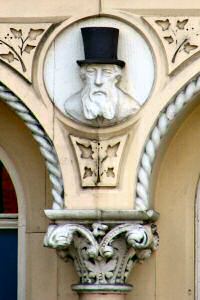 One of the oddest sights in Leicester is the house in London Road that has sixteen carved heads, all wearing hats.
To be truthful, most people never notice it, but those who do often enquire, when there is somebody to enquire to, what it's all about.
It's known as Top Hat Terrace.
Francis "Tanky" Smith was the first detective to be employed by the Leicester Borough Police Force, formed in 1836. His nickname came about through his habit of "tanking" yobboes round the head to keep them quiet. This would certainly be frowned upon today, but was no doubt effective.
Tanky was a master of disguise. He would often dress in clothes that would not arouse suspicion, and hang around in the sort of pubs frequented by the criminal classes. He overheard many a plan, and many a criminal was surprised to be apprehended.
It is believed that Arthur Conan Doyle had Tanky Smith in mind when he devised the master of disguise aspect of Sherlock Holmes.
Tanky Smith retired from the force in 1864, and became Leicester's first private detective. One of his most famous cases was finding the body of James Beaumont Winstanley of Braunstone Hall in Germany. He was paid a substantial sum by the family, who were anxious to know whether or Winstanley was still alive.
With some of Tanky's profits, his son James Francis Smith, a fairly prominent local architect, built Top Hat Terrace for his father. The sixteen heads are not sixteen different chaps – they are all Tanky Smith in various disguises.
Posted by colin on Friday 7th October, 2005 at 6:46pm