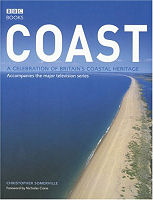 A lovely book called "Coast" was published recently to accompany the very popular BBC television series of the same name.
Subtitled "A Celebration of Britain's Coastal Heritage", it is written by Christopher Somerville, with a foreword by Nicholas Crane, who presented the TV series.
The very apt description on the back cover tells us that it is "a fascinating and beautifully illustrated guide to the 9000-mile coastline of Britain and Northern Ireland", with evocative essays, superb photography, maps and a gazetteer.
Some of the places featured in photographs are the White Cliffs of Dover; Spitbank Fort in the Solent; Torquay; and Llandudno Pier.
Then there's the fantastic Pier Head at Liverpool; the Golden Mile at Blackpool; Morecambe Bay; and the Giant's Causeway.
Moving on around the coastline are Portree on the Isle of Skye; Aberdeen; Bamburgh Castle; and Lindisfarne.
And moving further down the East coast there's the fishing village of Staithes in Yorkshire; Flamborough Head: Whitby; and Scarborough.
Bridlington; Skegness, much loved by Leicester folk; the striped cliffs at Hunstanton; Aldeburgh in Suffolk; and the Franciscan friary at Dunwich.
"Coast" can be obtained at all good bookshops.
Posted by colin on Saturday 18th March, 2006 at 7:38am