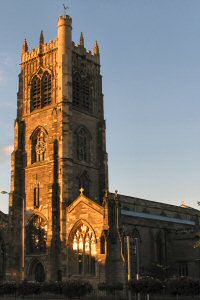 I gave my popular talk "The Adventures of the Bearded Cinema Manager" talk once again recently, this time in a church.
It was to the ladies of the historic St. Margarets Church in Leicester, one of the five mediaeval churches in the Old Town.
This talk always goes down well with people of a certain age (like me!).
I start with an account of my own cinemagoing as a teenager in Southend. There were twelve cinemas in the Borough at this time, the late 1950s. I used to visit one or other of them at least twice a week, sometimes three times. But of course I never dreamed that one day I would be managing such places.
I joined the Rank Organisation as a Trainee Manager at the Odeon Gants Hill, a suburb of Ilford, in 1963, ten days short of my 21st birthday, and was the youngest cinema manager in the country when appointed Manager of the Odeon Whalebone Lane, in Dagenham, at 23 in 1966.
My long career involved quite a bit of glamour, a lot of fun, but also very hard work and very long hours.
If your group would like me to come and give this talk, feel free to get in touch. You can ring me on 0116 2611576 or email me at colin@crosbyheritage.co.uk
Posted by colin on Sunday 7th June, 2009 at 8:49am