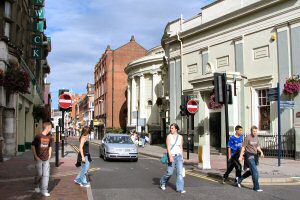 A recent talk at the Central Lending Library in Leicester had a Christmas theme.
The Library Club meets several times a year, and each time there is an interesting talk. I manage to get to most of the meetings, which are normally held on a Wednesday afternoon.
This time the speaker was my friend Angela Cutting, who told of some little known facts about Christmas customs.
Angela is not only a librarian, she is also a qualified Blue Badge Guide, as well as one of the leading calligraphers in the city.
Her talk was most interesting as always.
Posted by colin on Tuesday 12th January, 2010 at 8:57am