All Saints Church (Wigston Magna)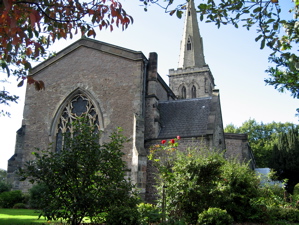 All Saints is one of the two mediaeval churches in Wigston Magna, to the South of Leicester. Throughout the Middle Ages, the little town was known as "Wigston Two Steeples".
All Saints dates back to the early 13th century. It is a handsome church with a large West tower, and a broach spire with crockets.
The chancel has sedilia and piscina, and the font was donated in he 18th century by Elizabeth Clarke, who founded the nearby almshouses.
In the churchyard is buried the notorious highwayman George Davenport.
All Saints is still used for worship, but the other, St. Wistan's Church, is now only used for the occasional service.