St. Andrews Church (Rugby)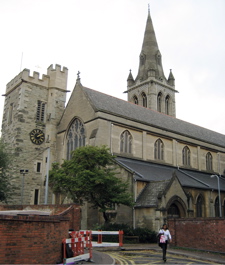 St. Andrew's is the parish church of Rugby in Warwickshire.
It is particularly notable visually because it has two towers.
The older tower dates from the 14th century, and was the refuge tower for a fortified manor house. A small church was added to this in the mediaeval period, the earliest church in the town having been a short distance away where the Clock Tower now stands.
In the 19th century, the famous architect William Butterfield made major additions to St. Andrew's, including a very fine tower and spire.
The church is unique in that each tower has a peal of bells which are regularly used.
Very close to St. Andrew's was another church, Holy Trinity, the work of Gilbert Scott. This has been demolished, and it is very difficult to find any mention of it in Rugby.