Market Square (Rochford)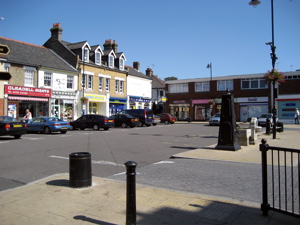 The Market Square lies at the heart of the attractive little Essex market town of Rochford.
The mediaeval street system of Rochford is ingeniously managed. North Street, South Street, East Street and West Street converge in the centre, but in fact no two streets meet head on.
The Market Square is off West Street, and a passage leads from one corner to North Street.
Some old houses were demolished in the 20th century on the North West and East of the Market Square, but there are still some attractive shops on the North side.
The Former Public Library is on the North West corner.
On the South side is the King's Head, which was long used for banquets in connection with the Whispering Court.
The Corn Exchange, built of yellow brick by Frederic Chancellor in 1866, is now used as a Women's Institute hall. There is a fine clock.
In the passage leading to North Street is a plaque recording John Simpson of Great Wigborough, who was burnt at the stake in the 16th century.