Carfax Tower (Oxford)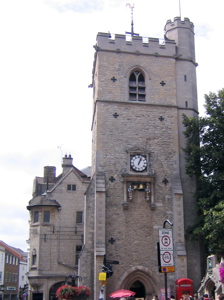 The Carfax Tower is one of the best known landmarks in the historic university city of Oxford.
It is situated at the crossroads where Cornmarket Street and St. Aldates cross Queen Street and The High.
The name derives from the Latin, meaning "four-forked".
The tower is all that remains of the 14th century church of St. Martin, one of the many places of worship in the mediaeval city.
At the top of the tower is a fascinating diplay of local history.
William Shakespeare acted as godfather at a christening at St. Martin's, and the composer Orlando Gibbons was baptised here.