St. Clements Church (Old Leigh)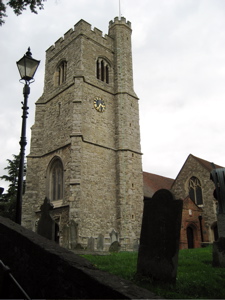 St. Clements is the parish church of Leigh, the little Essex maritime town which is now a suburb of Southend.
The church stands in The Broadway, what is now the main shopping street of Leigh, overlooking the Old Town.
It has a fine 15th century tower, and an aisle from the same period.
There are monuments to members of the seafaring Haddock family, and one to Robert Salmon, Master of Trinity House.
In the churchyard there is a memorial to the many men and vessels from Leigh who took part in the Dunkirk rescue, and there is also the table tomb of an elderly spinster.
The steep steps of Church Hill lead down from the church to the old High Street.