Public Library (Old Leigh)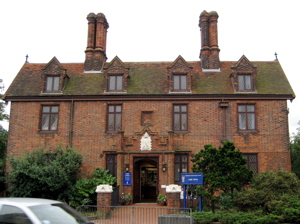 The Public Library at Leigh-on-Sea is in Broadway West, opposite a row of specialist locally-run shops.
Broadway West is a continuation of Leigh Broadway, the road from Chalkwell and Southend. The Broadway is Leigh's main shopping centre.
An attractive building in what are now public gardens, the Library was formerly, from the 19th century, the Rectory of the nearby St. Clement's church, which contains memorials to some of the skippers and crews of the little ships which took part in the evacuation of Dunkirk.
Leigh has a literary claim to fame, being the birthplace of John Fowles, author of "The Collector", "The Magus", and most famously "The French Lieutenant's Woman". He is sometimes claimed to be Britain's finest post-war writer.
A short walk to the end of Broadway West reveals the Leigh Hills, with the mediaeval ruins of Hadleigh Castle, famously painted by John Constable beyond. Walking down the steep steps of Church Hill brings one to Leigh High Street, the old fishing and shipbuilding quarter.