Church Hill (Old Leigh)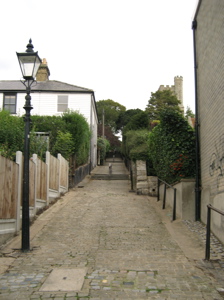 Church Hill is a picturesque feature of the old maritime town of Old Leigh in Essex.
It leads from the main shopping street steeply down to Old Leigh, the area around the Error with link.
At the top is Error with link, the town's parish church, with its many monuments to seafaring families.
The particularly unusual feature is that Church Hill consists of steps. It is only possible to walk up and down the hill. There is, however, a longer but less steep hill called Leigh Hill, which vehicles can use.
Leading off Church Hill on the West side are a number of terraces, containing cottages, and on the East side is the former church school, also now a private residence.