Town Hall (Loughborough)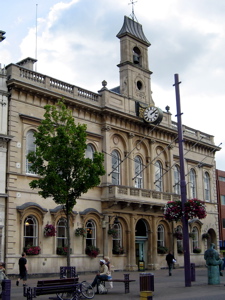 The Town Hall at Loughborough is one of the town's most prominent buildings.
It can be found in the Market Place, off the High Street, which is the A6, the main road between Leicester and Derby.
The Town Hall was erected in the mid 19th century as a Corn Exchange, replacing the old practice of putting samples of corn on the ground in the market.
It is now a multi-purpose entertainment and arts centre, which also contains the Council Chamber and Mayor's Parlour. The opening proclamation of Loughborough's famous three day street fair in November is read from the balcony.
Colin Crosby, the well-known Blue Badge Guide, was Manager of the Town Hall during the 1970s.
Where is Town Hall?
View a map showing the location of Town Hall.
Press the 'Back' button on your web browser to return here.