Original Four Building (Leicester)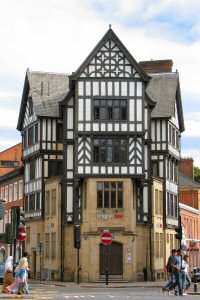 The Original Four Building is a striking piece of architecture in Leicester City Centre.
It stands on the corner of King Street and Wellington Street, and brilliantly closes the view down Market Street.
Built in the black and white style usually called Tudor, it is often taken to be a house from five centuries ago.
In fact it was built in 1930 by G. P. K. Young, an architect from Perth, and was originally an insurance office for General Accident.
It has also been used as staff club by Leicester City Council, and is now a restaurant.