Court House (Beaumaris)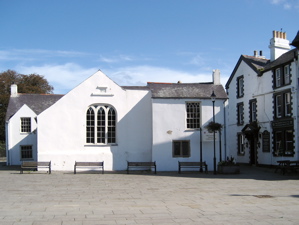 The Court House is one of several tourist attractions in the attractive town of Beaumaris on Anglesey.
It is situated at the East end of Castle Street, in a little square opposite Beaumaris Castle, and a stone's throw from the seafront.
The Courthouse, as well as the Gaol, which was designed by Joseph Aloysius Hansom, were both in Beaumaris because it was the county town as well as the most important port in North Wales.
The Courthouse was built in 1614, and is now open to the public. Visitors can see records of the crimes and punishments of both children and adults.